The work of rediscovering and championing overlooked and forgotten female filmmakers, part of a larger critical and curatorial effort to revise the film historical narrative into something that gives greater space to the accomplishments of women and other traditionally marginalized and thwarted groups, has become such a bustling industry in recent years as to make Catherine Binet's continued obscurity an almost impressive feat. Binet's filmography, admittedly, is slender—it consists of a clutch of short films about artists; one three-hour television documentary about her late lover, the author Georges Perec; and one extraordinary fiction feature, 1981's Les jeux de la Comtesse Dolingen de Gratz (The Games of Countess Dolingen of Gratz)—but then lack of prolificity has proven no obstacle in the belated, deserved veneration of, say, a Barbara Loden. Wherefore, then, does Catherine Binet languish still in the semi-dark of micro-cultdom?
If Binet remains today largely unknown, it is not for lack of effort on the part of enthusiasts; in her native France, memory of her was revived by the 2013 publication of C'était Catherine Binet by actress and author Marina Vlady, perhaps best known as the lead in Jean-Luc Godard's Two or Three Things I Know About Her (1967), seen in Comtesse Dolingen as an ice-cold matriarch. Vlady's book is a key point of reference in the most thorough English-language study of Binet's work that I know of, a long text by David Heslin that ran in 2018 in Senses of Cinema. I can't hope to match Vlady's intimate personal knowledge of her subject, nor the scope of Helsin's study, which benefits from an impressive amount of original research, so I will focus here on a close-read of Les jeux de la Comtesse Dolingen de Gratz, a film that, first seen at the Perspectives sidebar at the Cannes Film Festival and in the main competition at the Venice Film Festival, was greeted as the work of a major new talent—a talent, subsequently, let to languish far more than it would find employment.
Comtesse Dolingen consists of two principal narrative lines, braided together, and touching upon and informing one another in obscure ways—though Binet, per a 1982 interview with Isabelle Jordan in Positif which I will have occasion to quote from here at some length, has it that the film actually contains four stories, if one includes the story of the spectator. It begins in a forest, by day. A tree, marked with the white 'X' that arborists use to designate destruction, creaks and crashes back to the ground. The trunk has been cut clear through, but there's no culpable lumberjack in sight—the effect mirrors that in the scene of a forest clearing in Robert Bresson's Le Diable probablement… (1977)—nor any visible source for the sound of a thwacking axes that carry on under the opening credits along with the workmen's cries of "Et hop! Et hop!," followed by the noise of a baby laughing and wailing, the pained whine of a dog, the cry of a man (the voice of Michel Lonsdale, per Binet), and a little girl's voice that intones "…Just before the awful fall."
From this prelapsarian overture, Binet cuts to a woman, Louise (Carol Kane), awaking with a start in a train car passing through the countryside, traveling, we will learn, from Amsterdam to Paris. Evidently disconcerted by her dream, she composes herself while, across from her in the car, three men converse in Spanish. Two of them horse around with a tape recorder, one singing along as it plays a tune, a pleading pop song of indeterminate vintage whose chorus, coincidentally, is "Louise, ma Louise"—in fact an original by the Argentine-French composer Carlos D'Alessio, responsible as well for the woozy, voluptuary theme of Marguerite Duras's India Song (1975). As Louise attempts small talk, the third man, sitting aside from his mates, fixes her with an apprising glare. (This bold fellow is Roberto Plate, who will appear here again in other guises; like D'Alessio he was a part of the Buenos Aires-formed, Paris-based theatre troupe Groupe TSE, with whose members Binet was friendly.)
The outside attention may well be welcome, for Louise's marriage is not a portrait of domestic bliss. Back in Paris, her husband, Bertrand (Michael Lonsdale), a very well-to-do real estate administrator with the double-barreled surname "Haines-Pearson," informs her in a terse exchange that her friend has been put in a mental health facility, Maison-Blanche, and so Louise heads there to visit the friend, Nena (Marucha Bo), whose confinement does not seem markedly less pleasant than Louise's ostensible freedom.
Though this introduction seems to set Louise up as our protagonist, she in fact will be little seen for long stretches of the film, returning in the last reel for a climactic meltdown, pregnant and desperately unhappy. As she recedes, we instead follow Bertrand in his excursions to a country house decorated with hand-picked antique objets d'art—he's shown purchasing a carved wooden putti, then installing it in a place of pride over the fireplace mantel while listening to Mozart's Dies irae.
A monument to its owner's impeccable bourgeoisie good taste, the country home is barred and locked like a small citadel, but the citadel proves pregnable—a burglar has been regularly visiting and making himself master of the house, sneaking off with Bertrand's tchotchkes, taking luxurious meals in the kitchen, and generally leaving things in spiteful disarray. Determined to catch the culprit, Bertrand locks himself into the house with a revolver at the ready, but though he is able to observe the bandit's method of entry—rappelling down the chimney before exiting by the front door—he hasn't the guts to pull the trigger. Humiliated by his impotence, Bertrand finds, finally, a bloodless method for meting out punishment on his own day of wrath, having a wrought iron cage built around the hearth, so that the burglar, once inside, will have no means of egress. That the burglar is played by Plate, the actor from the train car, adds to the film's already fraught air of psychosexual tension—Lonsdale is not just a homeowner standing his ground, but a threatened husband revenging himself on the man who has dared to look on his conjugal property.
The source of this first storyline Binet credits to an anecdote told to her by her brother, concerning the commission of a "perfect crime." The second narrative line has a literary pedigree, being a fairly faithful adaptation of German artist and author Unica Zürn's 1967 semiautobiographical novel Dunkler Frühling (Dark Spring), published three years before Zürn's suicide by autodefenestration in Paris, and concluding with its protagonist's death in the same fashion. In what appears to be a flashback, we see Louise meeting with a more composed Nena, who presents her with an English translation of a manuscript of the same title as Zürn's, commenting "Maybe I can make a movie of it someday?" Louise reads aloud the opening of the text, and then another voice—adolescent, female, the same heard fleetingly at the beginning of the film—repeats the words, bringing us into the visualization of Zürn's text.
The voiceover, in third-person as throughout, speaks of a young girl's longing for her absent father in unmistakably and uncomfortably erotic terms, and in a darkened bedroom with blinds drawn, the camera lowers to pick up a figure in a white bathrobe, that of a 11-year-old girl (Katia Watchenko) who is removing a pair of metal shears from a very intimate place. "All the long, hard objects in her room," the voiceover continues, "She'd take to bed and slip between her legs." Scissors as a masturbation aid—a prickly, potentially disastrous proposition, and appropriate to the air of carnal danger that hangs over Binet's film.
What follows is a record of the inner life of a lonely, forlorn, and sexually precocious girl, born to a life of loveless privilege—we see her exit the bedroom to wander the grand stairwell of a manorial home, where she finds illicit frissons from stripping nude and sliding slowly down the bannister. Her father is absent, as was Zürn's, a cavalry officer stationed in Africa; her mother (Vlady), beautiful, brittle, and aloof; her brother (Antoine Binet), merely blandly brutal. (Zürn reported being raped by her own brother, and that trauma is staged here.)
Looking for solace and escape, the girl finds it in fantasy. It comes to her first in the form of an English au pair, Lucy Splitter (Marilú Marini), who reads to the girl from Bram Stoker, and who fascinates Louise with her ex-showgirl's easy sensuality. Later, the girl's attention turns to another, a fit, fortyish Argentinian (Plate, yet again) who frequents the same outdoor Paris swimming pool where she is learning to swim over the summer, the Piscine Deligny, once found on the edge of the Seine in in front of the National Assembly in the 7th arrondissement. The Argentine becomes "the object of a deep and secret love," a love that will drive the remainder of the girl's story towards its tragic conclusion.
Both sections, in their individual ways, play with disjuncture between sound—particularly dialogue—and image. In the Maison-Blanche hospital, a monologue by Nena carries on as the camera winds through the dormitory, deceptively suggesting various inmates as the speaker before it passes them by, finally picking up on Bo. The first scene of Louise and Bertrand "together" in fact shows us nothing of Louise and Bertrand together; we first hear their conversation overlaid on a series of pillow shots showing the luxe trappings of the 16th arrondissement building in which they live and work: the statuary in the lobby and the curlicue grillwork on the doors of the elevator that ascends to the top floor and the tapestries and Louis XVI chairs. Finally we arrive to Louise in a medium long-shot, listening to an off-screen interlocutor before turning to open the double doors to a small balcony, she now overpassed by a camera that cranes up to look to the sky. (The camerawork here, overseen by regular Jacques Rivette and Phillippe Garrel collaborator William Lubtchansky, has an almost regal ceremoniousness.) Lonsdale remains off-screen, and if not for his recognizable voice, there would be nothing to connect it to that of the character who later appears. When Louise and Bertrand later leave on a vacation, we hear only their conversation during a pan across the blue Mediterranean at Marseilles, the camera coming to rest on a slender young man suggestively rubbing the front of his swim trunks. (In Lonsdale's priggish performance there is no small suggestion of the seething repressed homosexual, like Billy Budd's Claggart or the Maj. Pendleton of Carson McCullers's Reflections in a Golden Eye driven to destroy objects of desire.)
Watchenko's little girl—that character is never given a name—is heard from almost entirely through her third-person voiceover, as in a sequence where a lengthy description of the girl's sexual fantasies is overlaid onto images of Alphonse-Marie-Adolphe de Neuville and Édouard Riou's woodcut illustrations for Jules Verne's 20,000 Leagues Under the Sea, whose imperious and cruel Captain Nemo is for her a figure of erotic fascination. The daughter of the Belgian poet and memoirist Françoise Lalande, Watchenko for much of the film delivers her extraordinarily lucid, open, and touching performance in pure pantomime, only finally seen to speak on camera when she has sought out her Argentine in his rented room, where she pockets the pit of a peach that he's eaten, and works up the nerve to ask him for keepsake photograph and a hair from his head. Lonsdale's performance is delimited in a different manner; Bertrand speaks on-camera, but never, until after he has dispatched his burglar, while facing it, seen for much of the movie from behind and in synecdochic fragments: a pair of feet, a bit of neck and earlobe, a hand. When he puts in the phone call to order the cage that will trap and kill his nemesis, we see nothing of his expression, only the mass of his shoulders and the back of his head.
In this Binet cites the not-unexpected influence of Bresson, particularly Pickpocket (1959), "because of the hands and penetration," explaining that what she "wanted to show was above all [Lonsdale's] gestures, all his gestures culminating in a harmless gesture, a phone call, which was a crime." Another inspiration for the visual treatment of the Bertrand character is perhaps less obvious, that of F.W. Murnau's Nosferatu (1922). Of the film, Binet recalls that "the young man who comes to visit [Count Orlok's castle] is strong, tall, has beautiful legs, beautiful buttocks, beautiful shoulders… Nosferatu, on the other hand, is always shown either from the front or from the side; I think Murnau… took away one dimension, the most reassuring dimension, the dimension of the living, the thickness by which we can grab someone, seize them. He, Nosferatu, is flat, like his home… we very rarely see him turn around… There's necessarily a strangeness if we take away from the viewer what is most reassuring in a man, the figure." While stating herself very happy at last with Lonsdale, Binet would later confess that she had written the role for another famous screen vampire, Christopher Lee.
All of this ties into what I believe Binet considers the film's third story—a snippet of a story within a story, in fact—which introduces, briefly, the Countess Dolingen of the film's title. Our first encounter with the character of the au pair is preceded by a digression into the fantastic; we find ourselves in a snow-blown cemetery, the camera advancing on a mausoleum whose doors mark it as the address of the late gentrywoman, before swinging in to reveal the countess laid out cold on a slab. Wolves howl, lightning crashes, and the Countess (also played by Marini) rises to sing in the words of a German nursery rhyme: "Here I am a helpless maid/ Alone in the wide world." As the camera moves on and begins to circle the mausoleum it is overtaken by the Countess, suddenly on horseback, who spurs her mount to a gallop and disappears in the distance as the frame turns to take in an inscription on the rear of the tomb, written in German, French, and English: "The Dead Travel Fast."
The scene, including that inscription paying homage to Gottfried August Bürger's 18th century ballad "Lenore," is drawn from what is believed to be the excised first chapter of Stoker's Dracula, which the au pair is seen reading to the girl from in the subsequent scene. Published as the standalone story Dracula's Guest, it places an unnamed protagonist, presumed by many to be Dracula's Jonathan Harker, in a graveyard outside of Munich on Walpurgisnacht, where he encounters the undead Countess. An Irishman living in buttoned-down Victorian London, Stoker made the exotic, sinister-sounding Transylvania—a name on the map, a place he'd never seen with his own eyes—the point of origin for the forbidding, not-so-secretly sexualized threat of his novel.
The dangerous, eroticized allure of the unknown and the foreign that Stoker drew upon runs through both Zürn's roman à clef and Binet's film. While listening to her au pair read from Stoker, the girl wears a Native American headdress, and she looks on with wonderment as Marini models a "native costume" sent to her by her American fiancé in Vietnam—not in fact an authentic áo dài, but a chintzy kimono to be fobbed off on tourists. The illicit fantasies that the girl describes invariably involve "Chinamen, Blacks, Indians," which she prefers "to white men," and of course Verne's Nemo, the son of an East Indian raja. Zürn, raised in Germany with her father absent in Africa, was like her contemporary Duras and the later Claire Denis a white European woman marked profoundly in her childhood by the colonialist project, and like those women, explored through an often discomfiting art the impressions left by its stamp. (Binet quarreled with Mauritanian director Med Hondo for months over her film's depiction of eroticizing the "exotic," and it's not hard to imagine and to justify both of their positions.)
Binet's own upbringing, like Zürn's, was provincial, parochial, bound to the motherland. She was born in Tours, France, to two medical professionals, in either 1937 or 1944—sources vary, though the latter seems to be more widely accepted—and she was raised principally in Bressuire, in the Nouvelle-Aquitaine. During a stifling youth, she developed an acute interest in cinema, and this took her in time to Paris, where she would begin to find work as an editor. In 1966 she met and married a young doctor, Jean-François Rabain. The marriage ended in 1973, and if the intimations of autobiography that appear in Comtesse Dolingen are to be taken in earnest—Louise, like Binet, is identified as an editor—the marriage must not have been an entirely happy one, although through Rabain, Binet did met two figures that would make a profound impression on her later creative work, Zürn and Hans Bellmer.
Bellmer, then living with in Paris with Zürn, was a German born in Silesia, present-day Poland. An artist of renown, he'd first gained a degree of infamy for producing a series of wooden dolls in the form of eroticized pubescent females—and posed tableaux vivant photographs of the dolls' often traumatized and sundered forms—in Germany in the mid-1930s, works condemned as "degenerate" by Nazi officialdom, and by plenty of others since. Zürn had been romantically involved with Bellmer since 1953, when she was in her mid-thirties and he his late forties. She was Bellmer's muse and model, the tight-bound subject of his series of Unica Tied Up photographs, but also a potent creative force in her own right, an author and graphic artist known in Paris's surrealist circles. As Binet's Comtesse Dolingen draws from Zürn's Dark Spring, so the character of Nena is based on Zürn herself, and when Nena in the hospital refers to the "Jasmine Man," she is using Zürn's nickname for the Belgian artist Henri Michaux, with whom Zürn would become unhealthily obsessed.
As Zürn's creative powers grew, her mental well-being had begun to unravel. She had a psychotic episode in 1960, one of the features of which was vivid hallucinations of the Jasmine Man appearing to her and issuing her commands, and she would never fully recover from her psychological distress. She became a patient of the Saint-Anne psychiatric clinic, where her case was overseen by Gaston Ferdière, a friend to the surrealists who had once treated another mad genius, Antonin Artaud, and by a young Rabain.
Years later, Binet would describe the relationship she developed with Zürn around this time: "With Unica, I often talked about childhood things. I got on well with her. I felt like I had a friend, older than me, but with whom I could speak as though at recess. I told her about things from my childhood; and she told me, in a completely anecdotal way, stories about dolls and more. I read Dark Spring in translation two or three months after her death. She threw herself out of the window. When I read this book, when I got to the end, where the little girl fell out of the window—I didn't know that she had written that—I was really cold. It is a very raw, very erotic, and very pure story, which tells what little girls do." Of Nena's monologue in the psychiatric hospital, Binet reported "These are words that Unica really said to me one day when I went to see her... I wrote them down outside of the hospital, and I was ashamed to do so. Scary but superbly beautiful words." On Nena's bedside table at Maison-Blanche, a small photograph of Zürn is visible.
At the same time that she was seeing Zürn in the later part of the '60s, Binet had begun work on her directorial debut, a film that would premiere at Cannes in 1973, the 36-minute Film sur Hans Bellmer. With Comtesse Dolingen, which Binet began to write in earnest approximately around the time of Bellmer's death in 1975, the artist's influence lingers on. When the film's young girl is presented with a porcelain doll by one of her father's lovers, "a beautiful foreigner" (Carine Toly), the girl assaults the gift and dashes it into pieces, in a Bellmer-like gesture seen shoving its eyeballs into the split crotch. An edition of Bellmer's 1946 etching Rose ou verte la nuit (Rose Open at Night), depicting a female figure peeling open her chest cavity and stomach for inspection in the manner of a Renaissance anatomy textbook illustration, hangs in Bertrand and Louise's country home, a marker evidently of her taste rather than his—he takes it down from the wall to hang his prized putti in its place, and the burglar later is seen to share his dislike for the piece. Bellmer has often been accused of misogyny, but in Comtesse Dolingen his work is associated with women, who don't like the men shy away from his images of trauma. In what appears to be a flashback, we see the print being presented to Louise by Nena, whose own wall is decorated by a large reproduction of one of Bellmer's La Poupée photographs originally published in the Surrealist magazine Minotaure in 1934, a jumble of dismembered doll parts that prominently includes a young girl's nude torso, a limbless trunk.
As much as Bresson, Binet is following Bellmer in her breaking of the body into component parts; having trained as an editor, she had an editor's fascination with the new meanings to be wrought from juxtaposition of fragments. (A surrealist preoccupation as well, as exemplified by Compte de Leautréamont's famous "Chance meeting on a dissecting table of a sewing machine and an umbrella.") In the years between the conception and completion of her Bellmer film, Binet was working steadily as a cutter, her most noteworthy efforts in this capacity two pairings with Marcel Hanoun, both starring Lonsdale, 1969's L'hiver (Winter), on which she worked on the sound edit, and 1970's Le printemps (Spring), conceived as and per Binet executed as a collaborative undertaking, though Hanoun eventually lay claim to lone directorial credit. (Binet is also a spectral presence in Hanoun's 1972 L'automne [Autumn], in which the dialogues between Lonsdale's director character and an editor, played by actress Tamia, are seemingly inspired by those between Hanoun and Binet while working on L'hiver.)
In Le printemps, one sees a simpler version of the essentially bifurcated structure of Comtesse Dolingen. The two narrative lines, again twined together, concern a) Another adolescent girl (Véronique Andriès), seen going through domestic routines in a rural home whose only other occupant is her grandmother (Raymonde Godeau), and b) A fugitive from justice (Lonsdale) on the lam, seen thrashing through forests and sleeping rough. Custom prepares a viewer for a narrative collision that never occurs; at the moment of arrival at the little girl's village, Lonsdale's character is cut down by the bullet of an unseen shooter. (By way of emphasizing how close the material was to Binet: the village is Échiré, home to Binet's maternal grandmother, whose own residence is used as the home of the girl and her grandmother.)
Writing some years back on the film, I compared its narrative irresolution to that of the twinned, never-synthesized storylines in Agnès Varda's 1955 La Pointe Courte, which Varda professed to have been inspired by the structure of William Faulkner's 1939 The Wild Palms. A comparison to Marguerite Duras's Le camion (1977), whose travelling shots of a truck driving drizzly motorways fail finally to concretely connect with scenes of Duras and Gérard Depardieu discussing a film project about a trucker also wouldn't be out of line, and the significance of all three films having been made by women, in part or whole, is quite possibly a subject for further research.
The climax of Le printemps is an audacious associative edit, a Binet specialty. As Lonsdale drops, felled in a fallow field, Andriès's voice is heard, calling for her grandmother. From here Binet cuts to the girl, first seen from behind in a medium close-up, then in a longer shot that reveals the cause of her distress, a spreading stain of menstrual blood on her nightgown, the girl's first period—one bloodletting leads to another.
Comtesse Dolingen is a film sewn together by such associative linkages between scenes, as Binet invests with notable deliberation and signification the edits that transfer us from one narrative channel to another. From the sky outside of Bertrand's office, Binet cuts to another image of the sky, this one on a television set at the Maison-Blanche hospital. On Louise and Bertrand's vacation at Cassis, a view of the choppy, deep blue sea cuts to the lighter, calmer water at the Piscine Deligny, where the girl is taking her swimming lesson. More than once, texts within the narrative operate as devices of transition, as when a close-up of Bellmer's Rose ou verte la nuit on the wall of Bertrand's retreat facilitates the flashback leap to the scene of Nena presenting it to Louise. Louise, Bertrand, and the girl are all at various points seen handling the Verne novel, and a cut from Bertrand closing the book to a shot of his hands securing the locks on the country house suggest the text as a kind of portal or passageway.
Binet's film, taking the comparison further, has a kind of enfiladed form, a film comprised of stories opening onto other stories. Along with Zürn, Stoker, and Verne, we get an English teacher in the girl's classroom giving a plummy reading from "Silence: A Fable," one of the tales of Edgar Allan Poe—favorite author of Vladimir Nabokov's hebephile Humbert Humbert, and himself more than twice the age of his 13-year-old cousin Virginia Clemm when they were married. (Like Stoker, Poe was quite possibly inspired by Bürger's ballad, penning his own "Lenore" as a means of coping with his Virginia's illness.) Binet, as though in a reminder of the socially unacceptable sexual undercurrents that swirl just beneath the surface of so much of the canon, sabotages the magisterial gloom of Poe's prose with low-comic images of public mortification. Rising during his recital, the rubicund Brit reveals that his zipper is down, prompting peals of laughter from the classroom, and something more from the girl—another aqueous image!—as she wets herself, forming a pool at her feet. Incidentally, Poe's original subtitle for "Silence," which was "In the Manner of the Psychological Autobiographists," could be nicely suited to both Zürn and Binet's art.
Positif, upon the release of Comtesse Dolingen, committed a fair amount of space in its pages to the film, including an essay by Perec, the film's producer, who had financed it in part with prize money garnered by his 1978 novel La vie mode d'emploi. Per Perec, the film's two "levels"—one "real" (Louise and Bertrand), the other "fiction" (the girl)—"begin to overlap, to encroach one upon the other, and a whole system of correspondences, transparent or enigmatic, fragile or peremptory, builds up, making these two stories interpenetrate… as if they were the reverse sides of the same figure, or mirrors of each other looking back at each other under lights imperceptibly changing their themes and their patterns: solitude, silence, hiding out, confinement." In the same issue, Julio Cortazar would describe the film's "capillarity," which I take to refer to the intricate network of ideas and images that circulate through it. For Perec, taking the prismatic imagery further, the film was to be entered as "a labyrinth where a few judiciously placed mirrors are enough to give the illusion of innumerable paths… engravings by Jules Verne and Hans Bellmer, red roses, locks and keys, white curtains slightly agitated by the wind, and a hundred other games of images and sounds, a puzzle which it is up to the spectator to collect the pieces of."
Binet has scattered her clues and cues everywhere. The nesting narrative sections of her movie, though they don't directly dramatically infringe on one another, are nevertheless bound together by these ambiguous connections, winding capillary paths following an almost free-associative logic. When the same faces—namely, those of Plate and Marini—reappear through different narrative lines, in different roles, it's as though Louise, in reading her friend's story, has cast it with figures from her own life, just as the girl, in imagining Stoker's story, has placed her au pair in the Countess's crypt.
As the film proceeds, certain evocative images bleed through its different layers or levels in an uncanny fashion. Emerging into the fireplace of the country house, Plate wears something that resembles a deep-sea diver's skin suit, suggesting still again the figure of Verne's Captain Nemo. (The undersea motif might be taken as an image of the subconscious—both Nemo and Binet are interested in trawling what lies beneath the surface.) The break-in at the same time functions an evocation of childbirth—a body wriggling out of a tight passage—which in turn connects to Louise's pregnancy, the crux of the drama at the film's conclusion, in which Bertrand demands his child from his fed-up spouse. Nena's hospital room monologue is rich with images of birth and death, as she recounts being visited by a vision of giving birth to all creation and of a room with a skylight with clouds profiling by above, seeing "the blue eye of God" in a "dead woman's sex." These image, of the sky and the "blue eye," then recall us to the view outside of Bertrand's office, where the motion of the camera passing out of the door as Louise opens it seems to predict both the eventual method of the girl's suicide and Nena's off-screen suicide, discussed calmly by Bertrand at a dinner party. The film itself operates on a sort of loop, ending back in the woods where it begins, while the aftermath of the girl's death late in the picture brings us back to the opening dream—to "the awful fall," and the sound of a forlorn canine. Auditory cues carry a weight of their own: The song that Louise hears on the train is later sung by the burglar as he ransacks the country house under Bertrand's gaze.
Lastly, like snippets of a half-remembered tune, key objects resurface here at unexpected times and with unclear significance. Scissors used as a masturbation aid will reappear as a weapon used to assault the gifted doll, whose sightless eyes, discovered in an Amsterdam junk shop, are passed as a gift from Louise to Nena. Among the recurring objects are several which might best be described as fetishes: Bertrand's slightly porcine putti, whose Cupid's bow lips he fondles upon getting it home; the keys to the country house that are supposed to vouchsafe his property, which he's forever diddling with in a finicky fashion; the hair from the head of the Argentine, which the girl presses into a ball of candle wax to be worn in a necklace hanging close to her heart—the very image of the keepsake that Plate, in his first appearance on the train car, is seen to have hanging around his neck. And then there is the au pair's kimono and the girl's headdress, redolent of the perfumed allure of all things foreign, of anything other than the dreary known world.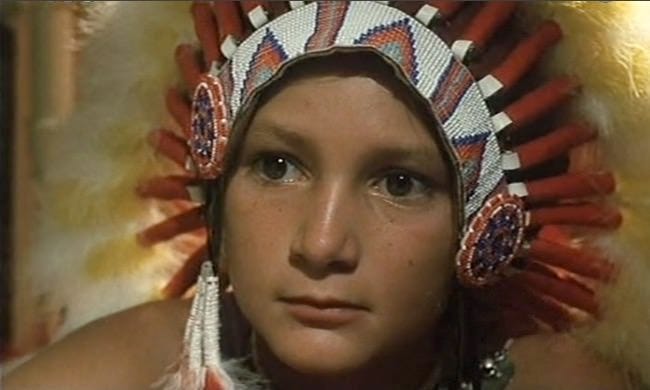 Binet's debate with Hondo can hardly have been the only heated discussion Comtesse Dolingen prompted, for there's scarcely a taboo that it doesn't touch or violate. The discreet images of unclothed Watchenko are not nearly so sexually charged as, say, those that one finds in Harry Revier's Child Bride (1938), but they nevertheless skirt the bounds of the permissible . The girl's voiced fantasies suggest not only a frank fetishism of the Other but an awakening masochism—"In bed at night," goes the voiceover, "she would dream that a somber man was doing her violence," while the image of a "cold, black marble altar" as the scene of consummation recalls the Countess's crypt in Dracula's Guest. Incest, in thought and practice, is rampant—even the girl's mother, asking her daughter for a kiss after she's been employed in plucking her mother's gray hairs, will lean in to lick the girl's ear. (This "rhymes" with the later scene of the Argentine giving the girl the gift of a hair, per Cortazar both moments of "pulling out hair as a testimony of love and submission.") Bestiality is explicitly referred to, if not depicted—the family dog's tongue is revealed as one of the girl's avenues of exploration, and this gives new meaning to the whimper of the dog at the film's opening, now assuming the character of an abandoned lover's plaint. For the girl's brother, knowledge of her forbidden pastime becomes a means of blackmail, and after taking his pleasure of her he warns "If you tell Mama, I'll tell her what you do with the dog!"
What is remarkable about Binet's film, though, is not only its venturing transgressions on multiple fronts but its total absence of sensationalism in doing so, its very matter-of-factness in addressing adolescent sexuality, which even in these unusual and sometimes terrible circumstances it treats as universal and no grounds for hysteria—as the narration states during the girl's nocturnal adventure on the bannister, "All children of her age have such experiences." Describing Dark Spring, Binet notes the importance of Zürn's eschewal of the first-person, stating that the author "talks about childhood things in a violent way, and without any exhibitionism, perhaps because she says 'she.'" Binet seeks a cinematic equivalent to the novel's distancing third-person approach, one to convey the Watchenko character's sense of dissociation, which should not be unexpected in an emotionally abandoned girl who has been subject to abuse. That she experiences life as something happening to someone else is quite clear in her final moments, in which she watches herself in her bedroom mirror as she dangles from the railing outside her window, admiring the stagecraft of her own suicide.
"I thought it was a morbid film, with all of these people who die" Binet would say, until "Lubtchansky revealed to me that I thought less of death than of deprivation of life: at least in the swimming pool, children's skin is filmed in a very sensual way, it's very alive." This is true, and it's perhaps part of the problem. When asking why Binet hasn't enjoyed more attention, one needs look no further than her chosen subject matter. The movie is a deep dive into the subconscious sludge, into things considered best not spoken of. Even Amos Vogel, in his very great Film as a Subversive Art, can't bring himself to list adolescent sexuality among the taboos of pictorial representation, though he does praise the "nymphets" of Joël Séria's Mais ne nous délivrez pas du mal, and touches on "the passion of an old man for a nubile boy" in Luchino Visconti's Death in Venice (1971).
Binet's film concerns the passion of a young girl for a man old enough to be her father, and this is no less ticklish a subject matter. Comtesse Dolingen is a sensual film, but it is not a prurient or pornographic one—I imagine that it caters significantly less to the taste of the pederast than did the average Shirley Temple vehicle. Viewers can hardly be expected to confront such distinctions for themselves, however, in an age where any dim-bulb busybody can make the news and garner nearly 12,000 signatures with a petition asking that Balthus's 1938 Thérèse rêvant be removed from its place of display in the Metropolitan Museum of Art, or at least fixed with a cautionary didactic. Balthus, as Michael Kimmelman noted in his 2001 obituary for the painter, "was baffled by Americans' inability to grasp the essential difference between eroticism or sexuality and pornography."
Binet's Comtesse Dolingen tests any viewer's capacity for discernment, concerned as it is with the grim explorations of adolescent sexuality, and of morbid fantasies kindled in quiet isolation—the cool dark of a country house or a sunlit pool. The Piscine Deligny, founded in 1796, was a relic by 1980, the last of the many floating pools that once lined the banks of the Seine; you can see it at the end of Éric Rohmer's 1963 La carrière de Suzanne (Suzanne's Career), still then a popular destination, while in 1993 it would catch fire and sink to the bottom of the river in less than forty minutes. There is a sense that the scenes with Watchenko take place in an unspecified past, but the period is ambiguously defined, and in this this section somewhat recalls Maurice Pialat's A nos amours (1983), another film about the chaos unloosed by budding female sexuality, conceived as a period piece set in the 1960s of co-screenwriter Arlette Langmann's youth, then hauled into early '80s contemporaneity.
Rohmer and Pialat, both late bloomers, only bum-rushed their way into the French film industry with great difficulty, some time after the publicity putsch of the Nouvelle vague. Binet, at the moment of her own seeming breakthrough, was handed a devastating setback: Perec, days before the premiere of her first feature, died in Paris of lung cancer, aged 45. Binet soldiered on, working on shorts about French painter Jacques Carelman and Japanese fashion designer Hanae Mori, and preparing a project based on a 19th century memoir rediscovered by Michel Foucault, that of Herculine Barbin, an intersex person assigned female at birth who later opted, after falling in love with a woman, to identify as a man.
Binet's Barbin project, incredibly alluring material in such hands, was never to secure financing, and she never made a movie for cinemas again—her last film, Film sur Georges Perec aka Te souviens-tu de Gaspard Winckler? (1990), a tribute to her late lover, was made for television. When she died in 2006, a Le Monde obituary noted her as "the author of a single film, prized by lovers of pictorial exuberance." That the number of films Binet produced cannot be increased is an injustice that can never be undone, so it remains only to waylay and coax curious travelers to visit Les jeux de la Comtesse Dolingen de Gratz, to invite new players to enter the marvelous and terrible game of Binet's construction, and to discover the ultimate testament of one of French cinema's unjustly forgotten giants.
---
If you've enjoyed this piece, please consider becoming a paid subscriber to Employee Picks, as that's the only means I have to receive remuneration for researching and writing it.