Early on in The Last Party, Robert Downey, Jr. pays a visit to the lot of the former Charlie Chaplin Studios, a Tudor-styled structure built by the actor-director in 1917, and at the time of the documentary's shoot in fall of 1992, the headquarters for A & M Studios. Downey, Jr., who has just played Chaplin in a lugubrious Richard Attenborough biopic to be released in December of the year, describes the space as "My hero's church." Entering the sound stage where Modern Times (1936) was shot, Downey, Jr. rattles on: "What interests me about Chaplin is not just that he was a comedic genius, but the fact that he seemed able to be a social critic and creative at the same time… If you're going to take all the time and energy to make a film, you might as well have it be something that really reaches out and does more than entertain people, because you give a lot of your life to do it, so it might as well really matter."
Downey, Jr. is, at the time of the shoot, twenty-seven years old and, as he will discuss throughout the film ahead, very much at a pivot point in his own life. The much-publicized drug arrests that will distinguish the latter part of the '90s for him have not yet begun to fill up a rap sheet, though his issues with substance abuse are already a matter of public record—the film's title refers to the year's political conventions, but also to Downey, Jr.'s alleged "drying out," his new sobriety. When Robert pays a visit with his underground filmmaker father, Robert Downey, Sr. expresses some regret at his freewheeling, counterculture-informed, "Slouching Towards Bethlehem"-style parenting style, which included allowing the boy to smoke grass with the grown-ups at a very early age, so to avoid preaching "hypocrisy."
Such personal issues will be sifted through all throughout this political-minded film, which follows Downey, Jr. as he throws himself into a project that will hopefully do more than entertain people—the film we're watching, in which Downey, Jr. travels to (and clowns around in) both the Democratic and Republican National Conventions, while endeavoring to inform himself on the defining issues of the day: the AIDS crisis, racial justice, women's rights, Wall Street greed, homelessness, and so on. The nation, likewise, is assessed to be at a decisive moment in the summer and autumn of '92, as the citizenry prepare to cast their ballots to decide between four more years of Republican rule at the executive level, or to choose to invest in the vision outlined, however nebulously, by the Man from Hope.
The Last Party, underwritten by LIVE Entertainment and given a limited theatrical release in August, 1993, is the work of Mark Benjamin and Marc Levin, who in the years ahead would become, with producer Daphne Pinkerson, something like the house filmmakers for HBO's documentary film division. Like Downey, Jr.—whose mother is actress and Downey, Sr. muse Elsie Ann—Levin was in a sense born into his line of business, the son of documentarian Alan Levin, who'd begun his career in nonfiction filmmaking at PBS station WNET, and who in 1982 collaborated with his son on Portrait of an American Zealot, a film concerned with an issue that surfaces again in The Last Party, the American religious right's increasing power at the ballot box. (At the RNC, we'll hear Christian Coalition director Ralph Reed pronounce "The reports of the death of the religious right are greatly exaggerated," this following the announcement of a platform with sturdy anti-abortion planks.)
Levin the Younger would follow in his father's footsteps as a producer of earnest, engaged, issue-driven documentaries, distinguished in his work by a high level of interest in inner city life, the explosion of gun violence resulting from the crack epidemic, and hip-hop culture. Nirvana's Nevermind had supplanted Michael Jackson's Dangerous atop the Billboard charts in January of '92, but there's nary a word about "grunge" or "slackers" spoken in The Last Party, which seems to intuit that rap will become the defining pop culture phenomenon of the day, and records Downey, Jr.'s meetings with emcees Willie D from The Geto Boys and B-Real from Cypress Hill. (The soundtrack, meanwhile, relies heavily on the Beastie Boys.) Shortly after finishing The Last Party, Levin would travel to the city of Bill Clinton's recent gubernatorial residence to produce his masterpiece, Gang War: Bangin' in Little Rock (1994), in which white and black kids in the Arkansas capitol are seen reciting the lyrics of The Chronic like holy writ.
Downey, Jr., Willie D, and B-Real are far from the only famous faces seen here. At the DNC, Downey, Jr. is seen not for the last time sitting down with Spike Lee, then deep in the edit on his Malcolm X—later Downey, Jr. will step into the editing room with Spike to watch black-and-white rushes of his epic-in-the-works. Lee opines that young America's leaders aren't politicians, but rather entertainers: Axl Rose, Chuck D., etc. This, Lee reckons, is not an entirely healthy state of affairs: "I think it's unfair," he says, "that we should expect Michael Jackson and Michael Jordan… to lead us out of the wilderness." (The year before this interview Jackson, increasingly messianic in his self-image, had released the ridiculous, sublime Dangerous, including back-to-back tracks "Heal the World" and "Black or White.")
This observation notwithstanding, entertainers, along with politicians and men-and-women in the street, enjoy a significant portion of screentime in this curious cavalcade-like film, which is, after all, concerned with a celebrity's political awakening. An appearance is made by musician Dave Mustaine of Megadeth, who disgustedly opines that the American economy "sucks" because we manufacture MX missiles rather than VCRs. Oliver Stone, whose JFK had at the outset of 1992 received eight Academy Award nominations and won two, ruthlessly criticizes the empty rhetoric of the DNC, though is later found comfortably ensconced backstage at the convention, watching Clinton's acceptance speech. Richard Lewis, seen at a post-nomination pow-wow with Billy Baldwin and Christian Slater, says "I travelled 3,000 miles to see Clinton and I got The Way We Were"—the reference is to the 1973 weepie, suffused with nostalgia for campus radicalism in the carefree days before the House Un-American Activities Committee, and gets at something essential about the degree to which political theatre takes its cues from Hollywood, with Bill and Hillary's time at Yale in the '60s being narrativized after the model of Redford and Babs at an upstate liberal arts college of the '30s. Downey, Jr. later walks a beach talking with Mary Stuart Masterson about abortion rights and, after a crash-course in Nixon and his Plumbers, sits down with the poster boy for celebrity activism, Sean Penn—himself a former "troubled" young actor who seems to have settled down in marriage and fatherhood, and who might be here to offer a model of comportment to Downey, Jr., only a few years younger.
From the first, The Last Party, with Gen Xer Downey, Jr. as the stand-in for the youth of America, emphasizes the alienation of "young people" from the operations of the American political system. (The choice of Downey, Jr. is somewhat dubious, as most young Americans in 1992 would not have been millionaires in their twenties.) In an opening monologue, overlaid onto Downey, Jr. playing piano in a nearly empty, pre-convention MSG, our protagonist intones: "We were born during Vietnam; we were kids during Watergate; in our mid, late teens for Irangate; and now we're all grown up for Desert Storm. We've only ever known a government that doesn't tell us the truth, and so we've been taking it in our own hands to find out our own truth." The film corresponds to a broader contemporary effort to "sex up" U.S. electoral politics—1992 was the year when the nonprofit Rock the Vote, founded in 1990 by Virgin Records America Co-Chairman Jeff Ayeroff, first made its impression felt with a series of commercials played incessantly on MTV, in which celebrity spokespeople exhorted young Americans to get to the ballot box. (The crop in 1992 included Jackson, Madonna, Aerosmith, LL Cool J, R.E.M., and, featuring alongside Sara Jessica Parker, Downey, Jr. himself.) The film, which boasts punchy cuts, emphatic needle-drops, and stylish black-and-white interstitial passages, might be said to take a music video vérité approach.
The conservative movement had altered the face of American politics with the success of a movie star president, Ronald Reagan, a success that would be mirrored with the 2016 election of a television personality on the Republican ticket. The Democratic Party, though ridiculed—not without reason—as the standard bearer for Hollywood limousine liberalism, has never managed to successfully emulate this strategy, choosing instead to use proximity to fame to glamorize and effectively celebrify its leading lights, or otherwise to use film and television to elevate politicians into stardom, of a sort. (This is a process in which Benjamin and Levin have been complicit; their 2009-2011 documentary miniseries Brick City, documenting the travails of Newark, New Jersey, went some ways towards launching then-mayor Cory Booker on the national stage.)
Along with the major events of the election, encountered in roughly chronological order—first the DNC in New York City at Madison Square Garden, then the RNC at the Houston Astrodome, then election night and its aftermath—The Last Party is organized by a loose arrangement into topic-based sections, sutured together by associative cuts. A street corner rapper ending a freestyle flow with "Who killed JFK?" brings us to a shot outside the CNN building, being exited by Stone and Downey, Jr.—who the following year will be seen as tabloid journalist Wayne Gale in Stone's broad satire Natural Born Killers, whose star, Woody Harrelson, is the son of Texas hitman Charles Harrelson, sometimes cited as a possible participant in the Kennedy assassination. A soundtrack cue of Mike D's "Everybody rapping like it's a commercial/ Acting like life is a big commercial" from "Pass the Mic" returns us to Stone and Downey, now seated in MSG, as Stone gives a colloquy on "the twenty-three corporations that control America" and their leasing out of the airwaves, concluding that "there's no way that you're going to have serious debate, serious discussion, or serious campaigning under a private system." Stone, as seen in a contemporary MTV piece that has Mustaine taking interviews at the DNC, is a disappointed supporter of the insurgent grassroots campaign led by former California governor Jerry Brown. Stone endorsed Bernie Sanders's candidacy in 2016, though more recently has been known for his relationship with Vladimir Putin, whose multilingual RT news network perhaps better realizes his standard for serious debate than the private system.
Such systematic analyses are the exception rather than the rule in a film that emphasizes politics as a matter of personality—when Downey, Jr. asks a young DNC conventioneer why she isn't a Republican, she responds, flatly, "Because I think they're assholes." Time and again, parallels are drawn out between Downey, Jr.'s personal history, generalized American pathologies, and the sorry state of the Republic. Footage of strippers drumming up business outside MSG for the Gold Fingers strip club—then located on 28th St. and 11th Ave., though soon to be run out of Manhattan by Giuliani-era legislation—is followed by a showering topless dancer holding court on her status as a registered Republican, and then a disarmingly candid Downey, Jr. discussing his personal history of sexual confusion and anxiety ("If you're at a place where you're uncomfortable with life, when you're spawning, ya know, the idea of a vagina brings up a lot of fuckin' resentment.") This is then followed by Downey, Jr. speaking to participants in a march by the Women's Action Coalition, newly formed in the wake of Anita Hill's testimony at the Senate confirmation hearings of Supreme Court Justice Clarence Thomas, a confirmable asshole.
Elsewhere, Patti Davis, daughter of Ronald Reagan, offers the analogy of the dysfunctional family to diagnose America's ills: "We have this idea that we are a society in which a lot of dysfunctional families exist… because of that, we are a dysfunctional country." (As a possible solution Davis, newly separated from yoga instructor Paul Grilley, offers the panacea of "self-realization," which one supposes is what Downey, Jr. is pursuing in the various vignettes in which he is found meditating in the film.) Downey, Jr.'s drug problems, too, are connected to a broader national malaise; a technician at the DNC, expressing his admiration for then-Texas Governor Ann Richards, notes that she's "a recovered alcoholic who knows who she is and what she is." This is followed by footage of famous tippler Teddy Kennedy speaking, and Downey, Jr.'s voice-over discussing what he calls the Democrat's "twelve-step platform… kind of like one nation under rehabilitation," and then by footage of Roger Clinton—the presidential hopeful's younger half-brother, convicted in 1985 of cocaine possession and drug trafficking—performing with his band, Dealer's Choice, then recently signed to Atlantic Records. In pop as in pictures and politics, nepotism goes a long way. (As Christopher Hitchens observed, perhaps Hyannis Port standard-bearer Kennedy's finest hour would come in his placing his support behind Barack Obama rather than Hillary Clinton, thus striking a symbolic blow against the bane of dynastic politics in the United States.)
To what degree Downey, Jr. is himself recovered, recovering, or still using at the time of filming is unclear—it is strongly suggested that he has cleaned up, but he has plenty of spastic outbursts that might imply otherwise. He explains the dichotomy of his character as being divided between "the Good Boy" and "the Goat Boy." The function of the Good Boy is somewhat ambiguous—presumably this is the part of Downey, Jr. that exhibits an active interest in politics and Healing the World—though when in the character of the Goat Boy, Downey, Jr. squats on all fours and leaps and gambols, making a public nuisance of himself at Rockefeller Center and in Central Park. Such fits of capering are kept up throughout: during off hours at MSG, Downey, Jr. gives a strutting mock stump speech promising "a chicken in every pot"; after a contentious exchange with thuggish stockbrokers drinking at some downtown bar's sidewalk seating, he does a squirming breaststroke through a shallow public water feature nearby; in Union Square, he strips to his socks and red boxer briefs and sits cross-legged before a gathering crowd; at the RNC, he hangs over the convention floor in a harness suspended from the rafters. And there is an air of forced jollility to this fun throughout; something slightly desperate in Downey, Jr.'s jackass grin.
Self-amused, he's more actor than reactor here, no great shakes as a hard-hitting interviewer. In none-too-penetrating vignettes, various representative characters appear—activists, ghetto sages, rock-ribbed Republicans—deliver their grievances or talking points, and are promptly ushered off. The one scene allowed to carry on to a point of discomfort occurs in a Houston suburb, a confrontation between an out-of-work family planning to vote Democrat and their neighbors, planning to vote Republican, who pride themselves on having survived the recession through a fierce belief in up-through-the-bootstraps self-determination. It's a manufactured moment, but one that nevertheless taps into true anger, leaving the usually puckish Downey, Jr. wanting for a retort.
Downey, Jr. begins on his journey—framed, in an early visit to a psychic, as a journey of self-discovery—in the character of a wide-eyed, Candide-esque innocent, earnestly inquiring while remaining wary of being too easily taken in by what Stone describes as "bread and circuses." The most interesting aspect of his performance is his eclectic costuming, which suggests a limitless, chameleonic adaptability to circumstances. Getting in the ring with Wall St. bozos, he comes on looking like his rich Less Than Zero (1987) Manhattanite. Uptown, he slips into a tuff camo t-shirt. Sitting down with a brace-faced preadolescent at Union Square, he adopts the sullen pose of a lonely 12-year-old, commiserating with the kid over their disappointment in their parents. Preparing for the RNC, he learns how to whack a golf ball. There are several alarming fits that give the lie to '90s nostalgia—the decade mostly consisted of the twenty-three corporations that control America trying to convince you it was cool to wear a bucket hat.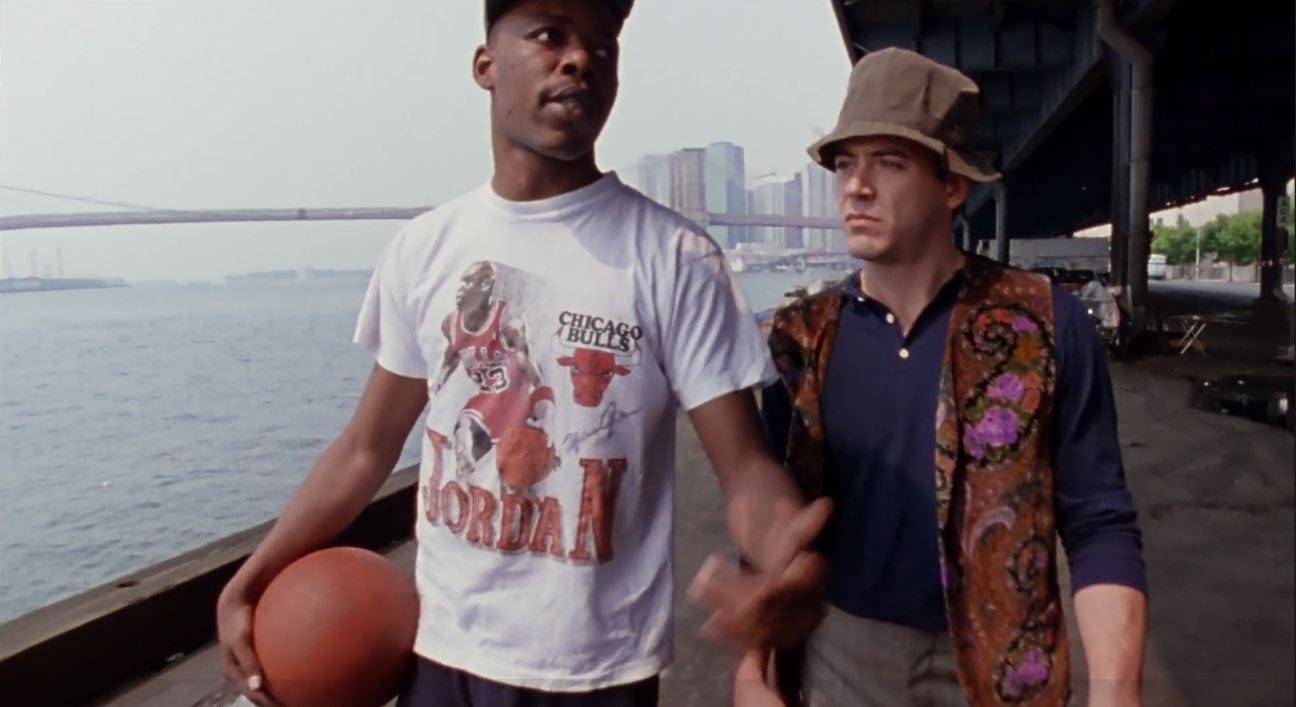 In New York, the movie's mood shows us a skeptical but generally familial scene; in Houston, in the year of Pat Buchanan's infamous RNC "Culture War" speech, things get hotter. Norman Mailer was also in town, filing a reeling report for The New Republic of his observations made among the grim-faced delegates. (Observed Mailer: "Leading an honest hard-working responsible life, at work from 9 to 5 over the middle decades of one's life, can pinch the mouth into bitterness at the laziness and license of others.") Mailer was an old hand at this sort of thing, but Downey, Jr., an insider back east, is well outside his comfort zone here, greeted with a new skepticism—and not only from folks like the young Republican woman who complains "I've watched MTV for eight years, and I've never seen them portray anything political from an open-minded viewpoint where they showed the right and the left." Later, inexplicably shirtless, Downey, Jr. seems genuinely disarmed when a black protester in Nation of Islam bow-tie, controversial Houston activist Quanell X, puts the culpability to make change at the feet of the white community, particularly the well-connected Downey, Jr., stating "Why don't you go to your people and do your best to make change?—but if you do that, you will never make another movie in Hollywood." (In what might be a sly, intentional dig, Quanell X first mis-names his celebrity interviewer as abrasive, right-wing television host Morton Downey, Jr.—another show-biz legacy, whose aunts were studio-era starlets Constance and Joan Bennett.)
Downey, Jr. never manages to score any facetime with Bush, as he does briefly with Clinton, but he does make the rounds. After a brief sit-down with G. Gordon Liddy, who two years later would be in the news for giving his radio listeners advice on how to kill Bureau of Alcohol, Tobacco and Firearms agents ("Head shot, head shots… Kill the sons of bitches"), Downey, Jr. meets Oliver North, who bemoans the threat posed to the lives of 600,000 lawmen by Body Count's 1992 "Cop Killer." There is even an abstinence-preaching, not-entirely-convincingly-heterosexual Republican rapper on hand, Steve Gooden aka TRQ ("The Right Question"), who would perform at the RNC, and who Downey, Jr. chats with outside the Astrodome. (Los Angeles file clerk TRQ can be seen here at the height of his infamy in 1992, appearing on Hot Seat, the UHF program hosted by Wally George—another born showman, the son of child star Eugenia Clinchard and father of Rebecca De Mornay—on Anaheim's KDOC from 1979 to 1993, a very probable model for Morton Downey, Jr.'s schtick.)
The trip to Houston goes some ways towards making a partisan of Downey, Jr., and there is a strong sense that this section is meant to do the same for the undecided viewer. After a soft intro consisting of a beach outing with "cool" surfing Republican Dana Rohrbacher, the then-recently-elected member of the U.S. House of Representatives from California's 48th district, Benjamin and Levin grow more didactic, counterpointing every piece of right-wing rhetoric with a response. A shrill pro-life protest is followed by Masterson's reasonable, low-key rebuttal. After North's condemnation of Body Count, Downey, Jr. leaves the convention for a trip to Houston's impoverished Fifth Ward with Willie D. Reverend Pat Robertson's introduction of Vice President Dan Quayle and Quayle's "family values" schtick is counterpointed by scenes of protest from the so-called "Queer Village" outside the Astrodome. At the moment of the triumphal balloon drop following Bush's address, a drooping Downey, Jr. can be seen loosening his collar, exhausted. Mailer's missive reminds us that family values were the last-ditch issue seized on by a trailing Republican ticket, and that news of Woody Allen's relationship with Soon-Yi Previn broke during that year's RNC to be received by the assembled with rapture, and even records a bon mot from then-House Minority Whip Newt Gingrich on the subject: "Woody Allen having non-incest with a non-daughter to whom he was a non-father because they were a non-family fits the Democratic platform perfectly."
In his new engagement, Downey, Jr. still retains the facility that has tended to taint his performances, the glib patter that made him a perfect fit for the rictus-grin house style of the Marvel Comics Universe. The exception is a monologue that Downey, Jr. delivers before digging in to argue with the Wall Street jocks, which seems to be the voice of a young man genuinely confused and troubled about his place in the mercenary commercial world of show business. "If money is evil than that building is hell," Downey, Jr. says to camera, framed at a low angle before some looming Skidmore, Owings & Merrill-esque glass box skyscrapers; "this is the most obnoxious group of money-hungry, low-IQ, high-energy jackrabbit fuckin' wannabe big-time, small-time shit-talkin' bothersome irritating bunch of motherfuckers I have ever had to endure for more than five minutes."
Born to underground film royalty—his first screen appearance is in one of his father's films, Pound (1970), in which human actors portray captured canines anticipating euthanasia, and in which he delivers the line "Have any hair on your balls?"—and it is not unreasonable to suppose that Downey, Jr. might have had some compunctions about the value of having grown up to appear in middlebrow tripe like Heart and Souls (1993); indeed the years ahead are among his most adventurous as an actor, with performances in Robert Altman's Short Cuts (1993), Natural Born Killers, Mike Figgis's One Night Stand, and James Toback's Two Girls and a Guy (both 1997).
Downey, Jr.'s troubles in the years ahead of The Last Party are well documented. At very nearly the height of them, in 2001, a star-studded sort of sequel to The Last Party was released, alternately titled Last Party 2000 and The Party's Over, co-directed by Rebecca Chalkin and Donovan Leitch, Jr., one of the credited writers on Benjamin and Levin's film. This time around the celebrity interlocutor is a far less playful Philip Seymour Hoffman, having then still recently achieved acclaim and attention as a distinguished screen character actor, travelling to the DNC in Los Angeles and the RNC in Philadelphia to discuss the pressing issues of the day with a new lineup of politically switched-on celebrities. (William Baldwin's is the only face to return.) It is perhaps more informative, more sober-minded, and certainly less amusing.
Like Downey, Jr., Hoffman had had his issues with addiction, which he would not survive, overdosing after a relapse in February of 2014. Downey, Jr., by contrast has been counted a remarkable success story. After a long and very public bottoming out, he was able to return on parole to films when longtime friend Mel Gibson paid the extortionate insurance bond that allowed for Downey, Jr.'s appearance in the 2003 feature film version of Dennis Potter's miniseries The Singing Detective, directed by Keith Gordon, who'd starred opposite Downey, Jr. in Rodney Dangerfield's Back to School (1986). Deemed bankable again, Downey, Jr. gave us glimpses of ambition and even excellence—his Paul Avery in David Fincher's Zodiac (2007), the weary soul of that movie—but at the end of his comeback decade, he settled for superstardom. His marriage to Deborah Falconer, new at the time of The Last Party's shoot and introduced as a bastion of new stability, ended in 2003. Remarried to a producer, Susan Levin, his career was now conducted with brilliant mercantile savvy and renewed success. Playing the lead in 2008's Iron Man, the first tentpole stake in Marvel Studios' effort to build the ever-expanding Gesamtkunstwerk mega-blockbuster that would dominate the global box-office, he became the face of the MCU and, as a result, became obscenely wealthy.
As to whether or not money is evil, the formerly agnostic Downey, Jr. seems to have made up his mind on the point. In the last several years, his screen appearances outside of franchise properties have slowed to a trickle. His foray into political activism does not seem to have become a habit—an appearance in a 2016 anti-Trump television spot notwithstanding—nor does his conversion seem to have stuck, at least according to a 2008 New York Times profile. "I have a really interesting political point of view," Downey, Jr. tells his interviewer, mysteriously, "and it's not always something I say too loud at dinner tables here, but you can't go from a $2,000-a-night suite at La Mirage to a penitentiary and really understand it and come out a liberal. You can't. I wouldn't wish that experience on anyone else, but it was very, very, very educational for me and has informed my proclivities and politics ever since."
Perhaps if I valued Downey, Jr. as an actor a little more, I might regret his present risk aversion, regret—this year's woebegone passion project Doolittle notwithstanding—the degree to which he seems to have substituted his addictions with avarice. As it is, I can't begrudge him doing best by himself and his family as he sees fit—though watching the eager, puppyish, forthright, and slightly tweaked-out young man of The Last Party, one feels with regret that something has been lost in the emergence of the canny, well-kempt fifty-five year-old businessman-artist of today. The trappings of celebrity breed vice; some escape a sense of the frivolity of show business in drugs; others turn to politics, with often comical results—see for instance the "I Take Responsibility" PSA, released to widespread scorn in June. Let us presume that Downey, Jr. has achieved the same peace of mind found by Joel McCrea's misguided do-gooder Hollywoodian at the end of Preston Sturges's Sullivan's Travels (1941), the onetime star of Pound now happy in his well-appointed cage, content to enjoy the rewards that come with bringing people pleasure by quipping in front of a greenscreen.
Nevertheless, there is something touching in seeing Downey, Jr. trying. I find a peculiar poignance, too, in revisiting the campaigns of 1992, as they're the first I can really recall in some detail, The Last Party's cast of characters and all. The election fell on November 3rd, two days before my 12th birthday. I was born on November 5th, 1980, the day after Ronald Reagan's landslide victory over Jimmy Carter; my mother, who was born on the 6th, would claim that she'd been holding out so that we could share a birthday, but was shocked into labor by the news. She also told me that my name, Nicholas, meaning "victory of the people," was chosen for its symbolic import, though if I was meant to avenge the catastrophe of the Reagan Revolution, I consummately failed in my mission—by the time I'd reached manhood the 40th president was but a frail shadow of his former self, and Alzheimer's carried him off before I ever got a crack at the star of Alan Dwan's lovely Tennessee Partner (1955). Of the 1988 election, I can remember only humiliation: the Dukakis-Bentsen sign ripped out of our front yard; being the only child in my elementary school mock election to cast a ballot for the little Greek from Massachusetts. So the 1992 election has a certain persistence not only because I was then creeping into adolescence, but because it was a win for "our" side—raised in a family of Midwestern Democrats, I accepted my partisan fate with resignation and equanimity, as is the only sane attitude towards accidents of birth. Perhaps it had some larger import, too, for my then-divorced parents, that Clinton had magnanimously gestured to bring broken homes into the fold.
In The Last Party, the Clinton-Gore win provides the pretext for a scene of the healing of the sundered family as, basking in the Los Angeles sunset, Robert Downeys Jr. and Sr. contemplate the day ahead, the memory of those '70s pot parties vanquished, Jr.'s distancing himself from his demons implicitly a fait accompli, the Goat Boy given one last springing, bleating curtain call. With knowledge of the years ahead, it seems impossibly fatuous. Just as not all conversions stick, not all recoveries come without their backslides.
Victory! Yes, but at what cost? Viewed from the vantage of 2020, the 1992 election season also seems familiar in other ways. The smoke of civilian unrest—the Los Angeles riots of spring—lays over the scene, and in the Republican law-and-order line, Mailer, like many today, espies the seeds of incipient authoritarianism. There is a familiar, cultivated air of impending catastrophe which one comes to associate with any national election—the Cassandra-like "Vote like your life depends on it… Because it might" rhetoric employed to drive the populace in panic to the polls. There is a public health crisis—here AIDS, today CoVid-19—and opprobrium at the perceived inefficiency of federal government in response to this crisis. There is the presence of the progressive outsider, in this case Brown, believed by many to have had the nomination stolen from him by a compromise candidate. And there is the specter of the Culture War, being waged with some of the same vocabulary still used today; the same fired-up blonde girl who decries MTV partisanship tells Downey, Jr. that "P.C. liberalism" is more of a danger than McCarthyism ever was, to which he only responds, agog, "What did you just say?" The Democrats, meanwhile, not to be outflanked in matters of censoriousness, have Senator Al Gore on the ticket, his wife, "Tipper," the co-founder of the Parents Music Resource Center, and a noisy advocate for affixing albums featuring graphic language with parental advisory labels. With the announcement of Gore as running mate, Luther Campbell of 2 Live Crew stated his intention to vote for Bush.
If there is something new in the air in 1992, it is this: these are the first post-Cold War presidential elections, and there is a sense of having lost the scrip with the apparently pat resolution of the great geopolitical drama of the latter half of the twentieth century. With the Great Work accomplished, the Republicans have lost the wedge issue that finally allowed them to retake the executive branch after twenty years of New Deal Democrats. Mailer wrote of the Oval Office's incumbent on his dispatch from Houston: "He had one problem larger than all the others: the cold war was over. Could one begin to measure how much George Bush owed the cold war?"
Americans, a fractious bunch, have so often in our history relied on an external enemy in order to achieve anything resembling national unity. In the weeks immediately preceding the outbreak of the U.S. Civil War, newly appointed secretary of state William H. Seward, in an infamous April 1st memorandum to Lincoln, proposed the forcing of a confrontation with Spain or France "for their meddling in Santo Domingo or Mexico," the idea being that Fort Sumter would be forgotten as abolitionists and slaveowners both could put aside their differences if presented with a common foe. Addressing the United Nations General Assembly in 1987, Ronald Reagan mused: "I occasionally think how quickly our differences worldwide would vanish if we were facing an alien invasion." (The vision proposed is international, but by '87, with the stock market guttering out, Reagan had more reason to worry about dissent at home.) In The Last Party, the absence of a unifying enemy abroad in keenly felt; says Downey, Jr. towards the film's conclusion: "Ya know, the Cold War's over, and now America's new enemy is its own: the liberals, the media, homosexuals, minorities, women who want to be empowered…" In Bangin' in Little Rock, too, a renewed fear of an enemy at home is in evidence. "I used to worry about Russia," says one locked-and-loaded interviewee at an Arkansas gun show, "but now it's more, you know, the people here I worry about." The battle lines have been drawn.
And so we remain in our uneasy ceasefire. As the first post-Cold War presidential elections, the 1992 campaigns are in a sense the first modern American elections, ushering us into the era in which we still live, the era of Clintonian triangulation and talk radio invective and blurry sense of national mission. (The War on Terror, ascendant China, and Putin's Russia have all been proposed as unifying threats from abroad, but none has yet shown the staying power of the Evil Empire.) It's not The Way We Were, but The Way We Are, and seem likely to continue to be. The Clintons and Bushes never left the building, and we're still manufacturing missiles rather than home video players, as per Mustaine, who penned a relevant line in one of the essential protest anthems of the 1980s, "Peace Sells": "If there's a new way/ I'll be the first in line/ But it better work this time."
---
If you've enjoyed this piece, please consider becoming a paid subscriber to Employee Picks, as that's the only means I have to receive remuneration for researching and writing it.