The following originally ran in two parts, published on June 28 and July 4, 2013, in a weekly column, under the title Bombast, that I was then filing for the SundanceNOW blog, which has since gone defunct, all traces of the columns disappearing along with it from the Internet. In most cases I believe the disappearance of those columns from the public eye to be no great loss to film culture, though I retain a certain fondness for this appreciation of the actress Elizabeth Hartman. On revisiting I find it is written in a somewhat more "personal" register than I would probably attempt today, but what are you gonna do? I wrote it then, not now.
The first time I watched The Secret of NIMH (1982) was in the break room at La Petite France, a mid-budget French restaurant in the Cincinnati suburb of Evendale, where I'd been stowed while waiting for my mother's waitressing shift to end. The climactic swordfight, which I would watch several more times through the course of my childhood, I would remember as the most brutal thing that I had ever seen.
In actual fact there are only a couple dabs of blood visible in this scene, a fact I noted with surprise the first time I revisited The Secret of NIMH as an adult. This was in the mid-aughts, in some annex room at Symphony Space with folding chairs set up for a kiddies' screening, though I was myself on a date (it made sense at the time, in a kind of inside joke-y way.) NIMH is the directorial debut of Don Bluth, who'd at the time of its release still-recently formed his Don Bluth Productions with a gang of defectors from The Walt Disney Company. Through the '80s, Bluth Productions was a viable competitor for The House that Walt Built, and NIMH, based on a children's book by Robert C. O'Brien, shows a good hand with subterranean atmosphere, its detail work certainly exceeding anything to be found in near-contemporary trace-along Disney works like The Rescuers (1977) and The Fox and the Hound (1981). What really stayed with me after re-watching, though, were the touching and tremulous line readings by the actress voicing Mrs. Brisby, a brown field mouse and the widow of heroic Jonathan Brisby, now left alone to care for her children. One moment is particularly rending: Mrs. Brisby is hidden behind tall grass, and we cannot see her, but we hear her say in a private voice that is very close to a sob: "I wish Jonathan were here."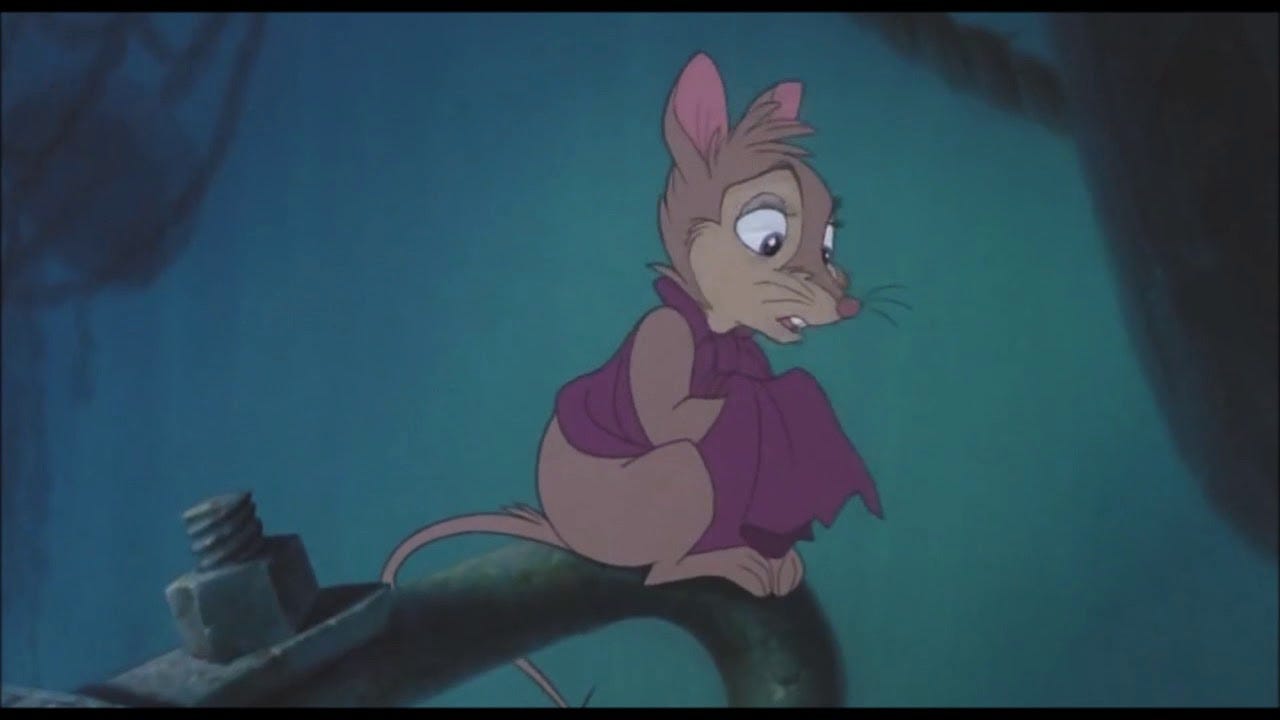 Mrs. Brisby's voice belonged to Elizabeth Hartman, an actor who I knew by then from Don Siegel's The Beguiled (1971). Now, there is a great deal that goes into a screen performance, but I cannot escape the impression that voice is in so many respects an actor's quintessence—when James Gandolfini died last week, many who were looking to encapsulate the sum total of the loss turned to Gandolfini's performance in Spike Jonze's otherwise-execrable Where the Wild Things Are (2009), a film in which the actor never appears in the flesh, yet a role which epitomized Gandolfini's combination of looming bulk and disarming vulnerability. (See also Gandolfini's Sesame Street appearance.) A number of great actors, usually prompted by the failing of their bodies, have given their final performances from the recording booth—Paul Newman, Orson Welles, James Stewart, for Bluth—for the famous voice is the last to go. And as it happens, Secret of NIMH was Elizabeth Hartman's final performance, though she wasn't even forty when she read her part.
Elizabeth Hartman was raised in Boardman, Ohio, a suburb of the northeast mill 'burg of Youngstown. She was the middle child of three, born in comfortable circumstances to William and Claire Hartman, respectively a building contractor and housewife. All accounts seem to agree that Elizabeth, nicknamed "Biff," was desperately shy from an early age, though she was pretty—she modeled for a Brooks Brothers' store in Cleveland—and able to slough off her shyness completely when she first started stalking the boards. Hartman began painting scenery and working as an usherette in the Youngstown Playhouse as a teenager, later appearing there in "A Clearing in the Woods," which first gave her a firm idea of her vocation, an ambition solidified when she won Ohio High School Actress of the Year for her role as Emily Webb in the Boardman High School production of Our Town. Thornton Wilder's play is a work almost sadistic in its pathos—seeing the David Cromer-directed production at the Barrow Street Theatre in 2009, I felt a horrible lump in my throat from the moment the stage manager began to address the audience and describe the dimensions of Grover's Corners, for I knew that if this play was done right I would be a blubbering catastrophe by the third act, and it looked very likely that, yes, it was going to be done right. Just to think of Emily's "My, isn't the moon terrible?" delivered in Ms. Hartman's voice, with its particular little catch, is almost too much to endure.
From Youngstown, Hartman went to study acting at Carnegie Tech (now Carnegie Mellon) in Pittsburgh, where she met her future husband, Gill Dennis, then working as a stage director. Her classroom experience was supplemented by work with the Kenley Players in Warren, Ohio, whose director, John Kenley, would remember her as "very pretty in a Victorian way"—a spot-on description, and something that would be put to good use in The Beguiled. Hartman had a face designed for a cameo, long strawberry blonde hair meant to be woven into jewelry or pressed between the pages of a book as a forget-me-not keepsake.
Hartman left Pittsburgh to make a go at New York, passing a summer at the Barbizon Hotel for Women, but she failed to set Broadway ablaze. Returning finally to Kenley, Hartman was put in touch with agent Howard Rubin, who in turn brought her to the attention of MGM—and the very same Little Nell quality that Kenley had noted came through in her screen test for A Patch of Blue. Adapted from Scotch-Australian-Japanese novelist Elizabeth Kata's Be Ready with Bells and Drums, A Patch of Blue (1965) depicts the friendship between Gordon, a Black newspaperman, and Selina, a poor, blind white teenager who is ignorant of her friend's color, but blissful at his attentions. English director Guy Green—coincidentally, the cinematographer on both of David Lean's Dickens adaptations—also wrote the screenplay for Patch, transposing the scene from the Deep South to downtown Los Angeles, to the benefit of the film's credibility.
The first shot in A Patch of Blue is a pair of shaky hands stringing beads. The hands are Hartman's; her Selina is a blind girl reduced to Cinderella servitude, her existence confined to the four soiled walls of the apartment where she's imprisoned doing house- and piecework for her family: her drunk, desiccant grandfather (Wallace Ford) and her slovenly, waddling tyrant of a mother (Shelley Winters, setting the bar for Awful Tenement Mother of the Year, only to be eventually outdone in gorgon monstrousness by Mo'Nique in 2009's Precious.)
After a great deal of begging, Selina convinces her grandfather to deposit her in a neighborhood park for the day, and there she meets Gordon, played by Sidney Poitier at his most watchful and humane. Gordon brings Selina little things—pineapple juice, a pair of sunglasses—which, in her meager life, take on the aspect of wonders, exotic gifts from a faraway world. He even brings her back to his apartment, where Ivan Dixon, then recently the star of Michael Roemer's Nothing But a Man (1964), shows up as Gordon's dubious brother. He has some right to doubt Gordon's motives: No mere racial goodwill play acted by eunuch cyphers, A Patch of Blue deals with a flesh-and-blood couple, and Gordon's saintly altruism is brought down to earth by ethically dicey lust, for though Selina is essentially a trusting, naïve child, she has a woman's body and desires. (Two years before Loving vs. Virginia, A Patch of Blue contains one of the first interracial kisses in American movies, between a chalk-pale white girl and a very dark Black man, and there is nothing chaste about it.)
Green lays on the lurid flashbacks pretty thick but, with Hartman's help, he does remarkably well conveying sightless, untutored Selina's subjective experience of the hazards of negotiating a simple city street. Patch of Blue can be fairly called Dickensian, and Hartman suits this because she has the ability, through her absolute un-self-conscious emotional transparency, to make goodness—bright, ecstatic, incandescent goodness—seem really appealing, something which was among Dickens's particular gifts. As much as her joy, Selina's terror comes through here, undiminished by the filters of actorly decision-making—witness her distressing abandonment in the park during a flash thunderstorm. Writing about Hartman, critics almost always have recourse to the same words: haunted, vulnerable, fragile, delicate. Speaking of her work in Walking Tall (1973), Pauline Kael pinpointed something of Hartman's appeal: "You want to reach out to her." And that invitation is there from the beginning: Hartman's Selina is like some breakable thing perched on a threatening precipice, and you feel compelled to protect her, secure her in place.
A Patch of Blue is released in December of '65. Hartman is nominated for the Best Actress Academy Award and Golden Globe. In Youngstown, April 18th is declared Elizabeth Hartman Day. Yet on the cover of the film's 2003 Warner DVD release, only Winters and Poitier's names are deemed marketable enough to appear about the title. What happened to take the shine off such a promising debut?
Hartman's next film, Sidney Lumet's The Group, was a two-and-a-half-hour, two-and-a-half million dollar epic drawn from Mary McCarthy's 1963 bestseller of the same name. A bona-fide moneymaker, it would seem a solid sophomore outing, but it was also a messy ensemble film where loose pieces tended to get lost in the shuffle. The Group follows a clique of eight Vassar friends from their 1933 graduation—at the dawn of the Roosevelt presidency and into the midst of the Great Depression—to the beginning of World War II. Their stories are bookended by two ceremonies at St. Mark's Church: The wedding of Joanna Pettet's Kay to a would-be playwright (Larry Hagman), and Kay's funeral, after her marriage has gone bust and she's tumbled out of her hotel room window while listening to the news of Hitler's tanks rolling into France. Hartman apparently turned down meatier roles to play Priss, a worrywart Economics major who goes to work for the NRA, only to ultimately find herself under the heel of her tyrannical pediatrician husband.
The Group wears its social import on its sleeve and couldn't fail to be recognized as "significant," but it's a rather slapdash film, hampered by an insensibility to the period it portrays, a visual murkiness that's surprising considering that Boris Kaufman is its cinematographer, and thudding conceits like the repeated ironic use of a school song chorale. All of these faults and more were dutifully chronicled by Kael, on-location taking notes for what would become her 25,000-word "The Making of The Group," which was commissioned and turned down by Life magazine. In its stead, Life published Kael's short profiles of The Group's actresses under the title "A Goddess Upstages the Girls" ("The Goddess" in question being the effortlessly supreme Candace Bergen.) Kael's comment on Hartman, later much quoted: "Whether she can develop the toughness necessary for a real acting career is the only doubt one might feel for her future."
Throughout her roasting of the impersonal professionalism of the present generation of TV-to-movie directors, which Lumet's shortcomings were taken to be indicative of, Kael seemed to be urging an American New Wave into being through sheer force of will. Hartman's next film, 26-year-old Francis Ford Coppola's sex comedy You're a Big Boy Now (1966), adapted from a novel by David Benedictus, showed something of the same ambition. Though the on-the-fly street photography of contemporary New York–inspired by the Nouvelle Vague's freewheeling use of Paris–gives Big Boy a certain documentary appeal today, the insistently innovative technique belaboring what is essentially a burlesqued bildungsroman, all edited into a madcap fluster by future director Aram Avakian, adds up to a case of the strained zaniness that typifies counterculture comedy.
Big Boy is worth seeking out for more than for views of since-demolished Luncheonettes and an under-construction Madison Square Garden, though, because it showcases a rare example of faith in Hartman's range, showing her to be a great deal more than an off-brand Sandy Dennis. Hartman is one of those mutable actors who can be exactly as attractive as they need to be in the moment—in A Patch of Blue she appears rather homely at first, with a blunt expanse of forehead, wincing smile, and a turned-in slouch, but as soon as Gordon starts to call her beautiful, beautiful she becomes.
In The Group, Hartman's Priss is the most meek and mild of the bunch, mocked as "so flat down there she's never had to wear a brassiere," mortified by her body and not least her inability to breastfeed. And yet here, the same year, in the opening tracking shot of Big Boy, is the very same actress with the very same body, indomitably strutting the floor of the New York Public Library reading room like it's a runway, to the strains of The Lovin' Spoonful. (Coppola did his part to build his starlet's confidence, taking her on motorcycle rides where he would roar above the sound of the engine: "You're sexy, beautiful, Barbara Darling!")
Barbara Darling is an inscrutable Off-Off Broadway ice queen who moonlights as a go-go dancer—or is it the other way around? (The name may be a nod to 1965's Darling, the film that provided Julie Christie the chance to make off with Hartman's A Patch of Blue Oscar.) Big Boy's nominal protagonist, Bernard, a put-upon gap-toothed virgin played by the Canadian actor Peter Kastner, is ensorcelled by Barbara at a performance of a caricatured avant-garde piece called The Department Store in which she appears in the mute role of a mannequin, looking dispassionate as a Grecian marble beneath piled red hair. A smitten Coppola gives Hartman a few such iconic moments, filming her poised atop the Alice in Wonderland statue in Central Park, or jerking her torso wildly above the dance floor of a nightclub where, improbably, scenes from Coppola's Dementia 13 (1963) are being projected onto the walls.
It's a siren's frug, a dance of death! In pursuing and "catching" Barbara, Bernard is unwittingly reduced to her doormat, a live-in lover unable to even enjoy consummation because his beloved has the cock-withering habit of taking on a maternal demeanor in intimate situations and airily referring to herself in the third-person. All of this is but a game for Barbara because, as established in a blithe flashback skit, she's had it out for men in general ever since being molested in boarding school. (If taking such a matter lightly seems crude, it can only be said in defense that the film takes everything lightly.) Hartman, younger even than her would-be wunderkind director, nevertheless brings nuanced insight to a role which, on the page, is little more than that of a castrating bitch. If Barbara keeps herself scrupulously in control, Hartman makes it evident that Barbara is herself not in control of the forces that demand control of her. Barbara Darling is, in short, a bit of a schizophrenic, most piteous when she's at her most pitiless—as Hartman's quavering voice rises to become something jagged, strident, serrated, I feel concern for the harpy, not her ostensible prey.
As a comedy, You're a Big Boy Now is no great shakes, but the character of Barbara Darling works on her own wavelength. Hartman finds a profound connection with her trite character, perhaps because there is something of Hartman in Barbara, both inveterate escapists: We are told that at boarding school Barbara was "Unhappy every day… except when they show the movies," while John Kenley said of his protégé that "She was a finished actress when she got on that stage. She disappeared into the woodwork when she got off."
A period in the woodwork was coming up. You're a Big Boy Now was followed by strictly routine work in John Frankenheimer's The Fixer (1968), which was in turn followed by inactivity as Hartman, uniformly disappointed by forthcoming offers, walled up in her E 68th St. apartment to re-read Emily Dickinson. Talking to the NY Times' Judy Klemesrud for a 1969 article titled 'After A Patch of Blue, Gray Skies,' from which the preceding motorcycle anecdote comes, Hartman described this period as "my slow, quiet breakdown." Klemesrud caught up with Hartman in December, 1969, shortly after her marriage to Dennis and her Broadway debut, in which she appeared with Henry Fonda, Ed Begley, and Margaret Hamilton in none other than Our Town—a Plumstead L.I. Playhouse production presented at the ANTA Theatre, today the August Wilson. (Hartman had been offered the part of Emily by Martha Scott, who originated the role.)
While waving off rumors of her extreme introversion as an embellishment of the MGM publicity department with one breath, Hartman confirmed them with the next: "The real me, I guess, is the shy, up-against-the-wall person. I like sympathy. I like people to feel sorry for me… You can tell from your fans what you are, I've got the adolescent crowd and the poetic boys. Those are the kinds of people who write to me and stop me on the street. It's certainly not the lusty men." But in her next role, Biff, Elizabeth, and Barbara Darling would be tested against heretofore unseen levels of machismo.
Elizabeth Hartman's appearance in Our Town on Broadway seemed to act as an agent of renewal, a recollection to the days of Ohio High School Actress of the Year and the sense of purpose that had come with it. Of working with Martha Scott, Hartman told the Times "She has given me a lot of help on the role, especially in the third act, when I die and come back to life. Never having died and come back to life before, I find it's a very hard thing to play."
Hartman was soon back to both life and work—inextricably intertwined, as they had always been for her. Her perilous brittleness, as well as the surprising capacity for wrath that she'd revealed as Barbara Darling in You're a Big Boy Now, would both be put to use in her next film, the Civil War-set The Beguiled, which began filming on the Belle Helene Plantation in Ascension Parish, Louisiana in the spring of 1970. Based on a novel by Thomas P. Cullinan, the project was developed by director Don Siegel at Universal alongside his Coogan's Bluff and Two Mules for Sister Sara collaborator Clint Eastwood, who'd first brought the book to Siegel's attention after it had been given to him by agent Jennings Lang. With Eastwood in place, a supposed fail-proof box-office guarantee, Siegel had a relatively free hand with the rest of the casting. Impressed after seeing Hartman in Our Town at the Huntington Hartford Theatre in Los Angeles, Siegel asked her to play the part of Miss Edwina, a sheltered, dangerously impressionable schoolmarm.
Eastwood would play Cpl. John McBurney, a wounded and helpless Yankee stranded in the Southland who's taken in by the Farnsworth Seminary for Young Ladies, a largely depopulated girls' finishing school. Aside from Miss Edwina, the remaining residents include twelve-year old Amy (Pamelyn Ferdin), buxom teenager Carol (Jo Ann Harris), headmistress Martha (Geraldine Page, who'd appeared with Hartman in Big Boy), and the Black housekeeper, Hallie (Mae Mercer).
The Beguiled begins with composer Lalo Schifrin's martial score behind a sepia montage of period photographs, the dab-handed cutting recalling that Siegel first made his name in the Warner Brothers Montage Department. (Like Hartman, the Warners had started out in Youngstown.) The sepia fades into color on the image of little Amy gathering mushrooms in the woods, a fairy-tale scene befitting the haunted and maleficent atmosphere that Siegel and cinematographer Bruce Surtees create throughout, from jaundiced sunlight seen through tattered curtains of Spanish moss to woozy lap-dissolves and crazily-craning camerawork. Amy discovers the bloodied soldier amid the overgrowth and, as a Confederate patrol approaches, we can see her contemplate handing "McB," as he calls himself, over to the enemy. McB hushes the child with a kiss instead—establishing from the get-go his willingness to use masculine wiles to keep himself alive.
Within the seminary, Miss Martha and Miss Edwina maintain the protocols of gentility amidst the savagery of war, and the women and girls are at first wary of the "Blue belly" from the 66th New York. But soon other concerns overcome patriotic feeling, and the focus turns from the War between the States to the war between the sexes. A succession of female visitors pass through the revolving door of the convalescent corporal's room, and even the chickens start laying after McB arrives: "You must got rooster blood in you," says Hallie. McB is punctiliously "Yes, ma'am" polite and the ladies are accordingly proper, but glimpsed windows to the soul in voice-over and flash-back reveal memories and desires at odds with the official front of gentility being maintained by all parties. Miss Martha dreams of an incestuous affair with her brother, and of sharing her bed with McB and Miss Edwina, a vision ending in a pietà pose with the women playing mother Mary and red-haired Magdalene.
Kind-hearted Edwina's pleading prevents Miss Emily from handing over the injured McB right away, and he repays her by preying on her weakness. "I wonder if you sometimes don't think of yourself as a Sleeping Beauty in a castle, waiting for a Prince to free you?" McB asks, pitching woo to her on the veranda, she swaying as though buffeted by a strong wind. Later, when she bursts out with a quivering "I love you so much," the words are torn out of her in a violent paroxysm. I have mentioned that Hartman was a reader of Emily Dickinson, and here she might be playing a distant southern cousin of the Amherst poet—a virginal, bloodless bluestocking with a pink, shiny, scrubbed face and a sweet, supplicant grimace for a smile. She wears her hair in a tight chignon, but when let down for bed, it falls in one of those fiery cascades so beloved of the Pre-Raphaelite Brotherhood.
McB hopes to enjoy the role of rooster in the henhouse, but he's punished when he tries to put droit de signeur in play. His fate is foreshadowed by another avian visual metaphor, a crane shot starting with McB being carried into the house and then moving to a mangy crow with a lamed wing tethered to the second-story balustrade, falling between the slats as it tries to take off. McB's kisses affect an awakening in Edwina, but when his essential inconsequentiality as a lover is discovered he faces another awakening, reaping the whirlwind of her aggrieved vanity. The movie's most memorable image is of Edwina, face hideous with hate, the green-eyed monster of jealousy incarnate, shrieking over discovering McB in flagrante delicto with Carol and shoving him down the stairwell: "You lying son of bitch! You bastard! You filthy lecher! I hope you're dead!"
1971 was a watershed year for Siegel and Eastwood: Their Dirty Harry would arrive in December, shortly after Play Misty for Me, Eastwood's directorial debut, made with Surtees and the rest of Siegel's crew. In the latter film, Eastwood plays a Monterey DJ who is haunted by a brief-encounter-paramour-turned-stalker—none other than Jessica Walter, The Group's uptight Cissy. Misty is a companion piece to The Beguiled, with Eastwood again interrogating his power as a seducer and sex object—That immaculately blowdried bouffant! Those tailored hip-huggers by "Brad Whitney of Carmel"!—and tracking the psychological fallout and ultimate retribution that accompanies abuse of that power. Scriptwriter Jo Heims offered a feminine perspective, as well as perhaps personal experience, what with Eastwood's storied history of bedding co-workers. His companion on the set of The Beguiled was Harris, whose nubile vixen walks in on the timorous Edwina giving McB a sponge bath and quips "I might sponge parts of him you wouldn't." (In a profile shortly after the shoot, Hartman confessed she was not unmoved by Eastwood's aura: "The physical presence of the man overwhelms me.")
Amongst Siegel and Eastwood's triumphs that year, the only disappointment was The Beguiled, a box-office non-starter met with critical puzzlement. The NY Times' Vincent Canby, a priggish snot who called Siegel "the man who gave us Riot in Cell Block 11 and Baby Face Nelson" as if that were an insult, sniggered at the pietà threesome while ignoring the fact that a woman like Miss Emily, without any other reference through which to give form to her inchoate desires, very likely would have turned to the familiar imagery of religious art. As for the film's commercial life, Siegel wrote in his autobiography that "[Universal] released The Beguiled senselessly and the advertising was practically non-existent," complaining of blown chances for festival entry and scrapped Edward Gorey artwork. One cast member had perhaps been counting on the film more than the rest: "I'm anxious for work," Hartman had told a reporter visiting the set, "In the first time in years I'm anxious for work."
The skittish Hartman was an unlikely action film starlet, but her next project would be with a contemporary of Siegel's, another Chicago boy who'd come up in the genre ghetto and who was about to experience his own little late-career renaissance. In the 1950s Phil Karlson had distinguished himself with a nonpareil run of hard-as-nails crime pictures—Scandal Sheet, Kansas City Confidential (both 1952), 99 River Street (1953), 5 Against the House (1955), and others. Not long after the high watermark of The Brothers Rico (1957), however, Karlson began to drift further and further out of his wheelhouse, directing two of Dean Martin's Matt Helm spy spoofs, Elvis' not-bad boxing picture Kid Galahad (1962), and Ben (1972) the sequel to 1971 boy-and-his-rat classic Willard.
The last was for Bing Crosby Productions, who would also secure Karlson's services for Walking Tall. While watching television one night, BCP producer Mort Briskin received a vision of a country-fried Dirty Harry and piles of money. The TV program was a profile of Buford Pusser, a 250-pound ex-wrestler who'd successfully run for sheriff after returning to his hometown of McNairy County, Tennessee, which had become overrun by vice operations paying off to the "Dixie Mafia" and "State Line Gang," whom he combated at great personal cost.
At 6'3" and with the carriage of a bouncer at Gilley's, Texas-born, longhorn-wide leading man Joe Don Baker was certainly big enough to play the former "Buford the Bull." He was also Actor's Studio trained, a performer of considerable sensitivity and intelligence able to convey forthright simplicity, and he'd been on a good run with Richard Compton's Welcome Home, Soldier Boy (1971) and Sam Peckinpah's Junior Bonner (1972). Playing Pusser's wife, Pauline, Hartman was again paired with a giant, first appearing folded under Baker's big, protective paw. "She looked in my eyes and made me feel just like a hero," Baker later recalled.
Working with material very near to 1955's The Phenix City Story, one of his peak-period films, Karlson, who'd already enjoyed a return to form with his 1970 Hornets' Nest, was in peak form. As he would in Walking Tall, Karlson had used the raw materials of a real-life case in The Phenix City Story—the 1954 assassination of Albert Patterson, recently nominated to run for Alabama Attorney General on a reform platform—to craft a piece of American folklore that tapped into a deep national anti-authoritarian streak. The films also share a white-hot sense of outrage at systematic rot and corruption that goes beyond the tidy abstractions of fiction filmmaking: Somewhat famously, Phenix City star John McIntire wore the slain Patterson's actual wardrobe during the shoot at actual Alabama locations while, in preparation for his part, Baker briefly lived with Pusser.
Hartman's sister, Janet Shoop, says that Elizabeth never saw Walking Tall, because she detested violence. This abhorrence makes her squeamishness all the more real in the film, which looks unflinchingly at the awful price of trading in violence, even when seemingly necessary. At the center of Walking Tall is an ongoing debate between principled, striding Buford and pragmatic, duck-and-cover Pauline. He has been imbued from boyhood with a sense of the romance of guns; she sees only a killing tool. While Buford is obsessed with his pride—the "Walking Tall" of the title—beyond all consideration of self-preservation, Pauline offers a voice of reason: "Is your pride worth the safety of those children? Of all of us?" But in this family it is Buford the bull-headed who calls the shots. As the war escalates—fists to hittin' stick, hittin' stick to pistol—Pauline's worst fears are realized, as everything between the immovable forces of Buford and the Nashville cartels becomes collateral damage. It falls to Pauline to carry the pile of bandages when Buford is cut to ribbons, to shake her head, tight-lipped, when he actually wins the election, to mingle tears with blood when her husband and the family dog are shot.
Pauline and Buford only cease to be at odds for a moment toward the movie's end, when she says "I'm not so scared anymore." Around then you know she's doomed. The real Pauline Pusser was killed in an ambush on New Hope Road on August 17, 1967, sitting in the passenger seat while her husband was driving. Karlson's neutral, almost objective treatment of these events is gut-wrenching. Buford awkwardly pulls his wife's limp corpse, so light in his hands, from the bullet-pocked car, laying the white-clad, red-streaked body out in a field. The camera stays on Buford as he cradles his dead wife, through another clean-up drive-by, until deputies finally arrive to pry him away from her. Pauline's body stays on-screen, just lying there, for an alarming three minutes, establishing her death as an obscene, irreparable fact.
True to Pauline's prediction, in meeting violence with violence, Buford loses almost everything that he sought to protect. In the film's final movement, even Buford Pusser has disappeared, a cast on his maimed jaw obscuring half of his face. The film ends with a sort of popular uprising against the syndicates, but given the cost paid, this replacement of the lone hero with a citizen's army is at once triumphalist and incredibly downbeat, the definition of Pyrric victory. It is possible at this moment to conclude that either Buford or Pauline had been right—and these contradictions are a virtue, not a liability.
Unlike The Beguiled, Walking Tall was a hit, playing throughout 1973 and grossing $35 million, still going strong when Pusser was killed in a car crash in August, '74, shortly before he was set to star as himself in a Walking Tall sequel. Walking Tall was not, however, a hit that Hartman cared to or was able to capitalize on. In the near decade between its release and The Secret of NIMH, Hartman's output was limited to piecemeal TV work, a role in Larry Cohen's 1981 werewolf teen comedy Full Moon High, where she delivers the line "Come back, you premature ejaculator!" and, most intriguingly, a film called Intermission directed by husband Gill Dennis which is today impossible to see.
Intermission was produced when Dennis was in the internship program for filmmakers at AFI, where he studied alongside distinguished DP Caleb Deschanel. We know that Intermission screened at least once, in a program of intern-produced work at Greystone, the Doheny Mansion in Beverly Hills. An LA Times review of October 4, 1973 by Charles Champlin describes Dennis' film as "an engrossing look at an actress and her playwright husband, their real lives alone and together and their fantasy lives," in which Hartman stars opposite Tom Rickman, later screenwriter of Coal Miner's Daughter. Of the project's genesis, Hartman had earlier told the Times that "a friend of [Dennis'] at the institute, Frank Daniel, suggested he write a movie about me and him. So about a month ago he started following me around with a notebook."
Fragments of Intermission were also descried in a Pittsburgh Post-Gazette piece of June 29, 1987: "In the movie," the author states, "Hartman sits in a rocking chair in her California apartment, writing in her journal. 'Every day of my life is another school day and I don't want to go. Now I play sick for myself.' Dennis saw Hartman write that in her own journals, which she later burned. He borrowed much of the dialogue from his former wife, including another statement made in the movie: 'I have so little personality that I take on the personality of those I'm with. That's why I don't like most people. I don't want to be like them.'" (With this in mind, it is interesting to note that in a promotional short produced on the set of A Patch of Blue, a visibly flustered Hartman actually seems to slip into an English accent when she is being addressed by Anglo director Guy Green.)
Young men of Dennis' generation were compelled to make such invasive muse-movies with their lovers, inspired by the marriage-inquisition of Godard and Karina, which begat David peeling the sheet off his sleeping girlfriend in Jim McBride's David Holzman's Diary (1967), Jean-Pierre Léaud badgering Maria Schneider with his camera in Last Tango in Paris (1972), Jean Eustache taping his arguments with girlfriends for The Mother and the Whore (1973), and the Bogdanovich-Friedkin amalgam "Carter Lang" played by Adam Roarke in Play it as it Lays (1972), who'd built his career on a documentary about his actress wife—a flustered-but-unbowed Tuesday Weld.
In the above cases there is usually something vampiric evident in the process, though I certainly don't have sufficient information to speculate about the marriage between Hartman and Dennis, which officially ended in 1984 after a period of separation. She called him "the gentlest human being I have ever known" in a 1966 interview, and later described him as "very Irish, disheveled, and an original hippie." Only sought out himself for interviews after her death, Dennis remembered that she had wept for six hours on their wedding night, and during bad times, of which there were many, would "cry all day or sleep all day, and then refuse to let me sleep at night." Who can judge his leaving? Even the gentlest human being could be broken by the total lack of any satisfactory emotional recompense and everyday attrition that comes with being close to someone who is irreparably mentally ill, and it was increasingly evident that Hartman's problems went beyond mere shyness.
In the NIMH press kit of 1982, Hartman is identified as "an actress who left Hollywood several years ago and is now back, ready for more career struggles, she has learned that timidity, finally, just gets in the way… Her career swerved into doldrums, her marriage ended and she found herself back in the Midwest. After several years, she has returned to Los Angeles to resume a career."
In Bluth's film, the widowed Mrs. Brisby, having been left on her own, discovers resources of courage that she'd never known she'd possessed, triumphing over her fear for the sake of her children. By the time of NIMH's release, however, Hartman had fled Los Angeles again for Pittsburgh, where she would live alone for what little remained of her life.
Hartman took a studio flat in the King Edwards Apartments, described as "a stately, old-fashioned building popular with Pittsburgh dowagers," on 4601 Bayard St in the city's Oakland neighborhood. And on June 10, 1987, aged 43, five years to the day after her return, she went out the fifth story window. Like Kay in The Group, Hartman left behind no note, though her general despondency at the time before her fall left little doubt that it was anything but a suicide. The cause of death was listed as "blunt trauma injuries to the trunk." This makes me think of the dead Pauline Pusser, and I hate this image.
Subsequent eulogies in People Magazine, The LA Times, and The Pittsburgh Post-Gazette retraced Hartman's last years: There was the big crack-up while Dennis was in the Philippines working on Apocalypse Now; there was her stretch at the Institute of Living, outside Hartford, Connecticut—one of 19 stretches of institutionalization; there was an overdose of sleeping pills in Boston while with the touring company of "Morning's at Seven," her last piece of acting work before NIMH (she quit the production in Los Angeles, though by all reports she was a model of professional comportment whenever actually on-stage). At the time of Hartman's death, Dennis was moving along with his career, anticipating the Showtime broadcast of Home Fires, a two-part drama which was said to contain a character based on Hartman. While Home Fires is not readily-available for viewing, one can only assume the character is that described in a People Magazine review by Jeff Jarvis: "Mom is crackers—or, in TV parlance, she lost her vertical hold and was sent to the repair shop after she attacked her daughter with a potato knife; the poor demented soul thought she was being stalked by a mass murderer."
Hartman's final years in Pittsburgh seem to have been quiet and largely solitary. She kept company with her sister. She was a regular visitor at the Western Psychiatric Institute and Clinic, where she was an outpatient, and at the Carnegie Museum of Art, where she'd briefly volunteered as a cashier. She listened to the radio, she re-read Dickinson, and she decided one Wednesday morning that she did not want to be alive any longer. She was buried Saturday that same week. "About 30 persons gathered for services at St. Charles Church here," noted the Elyria Chronicle-Telegram. "But they did not include any of the Hollywood celebrities with whom the 43-year-old actress had worked, such as Sidney Poitier, Clint Eastwood, and Shelley Winters."
Some at least made statements, such as Hartman's Walking Tall co-star, Baker: "I keep thinking that acting is a noble profession, but it's nothing but a garbage pail. I wish more people had helped her. I wish I had helped her." Whenever a film actor dies tragically, the overwhelming temptation is to put their death at the feet of the industry, as though something in the profession were fatally hazardous. Here is Kael in 'The Making of The Group,' not writing about Hartman specifically, but voicing a common line on performers: "There is a great deal written about the rich fantasy life and role playing in the childhood of actors, but actors may have nothing else to sustain them later on, either." In the same piece, in the half-mocking manner that typifies her responses to Lumet throughout, Kael records one of his observations during rehearsals: "I have known four suicides in my life and they all have one thing in common—an increasing isolation."
Hartman's own sister told the Times that "Biff was determined to maintain a heightened sensitivity. She felt her sensitivity gave her good qualities in acting. But the same sensitivities caused her to become unglued in real life." Similarly, one night after gorging on Lee J. Cobb's performances in the Morosco Theatre production of Death of a Salesman, Montgomery Clift jotted down the following question to himself: "The sadness of our existence should not leave us blunted, on the contrary—how to remain thin-skinned, vulnerable and stay alive?"
Clift made it to 45, just a couple of years better than Hartman, though with a sturdy retrospective worth of films. Even without the element of her unusual and tragic end, Hartman's body of work offers much reason to remember her—if only her slim filmography could be rounded out with Intermission, or if some record had been made of her Our Town! In 1969 she told The Times she could "hardly wait until she's old enough to play Amanda in The Glass Menagerie," and I wish she had.
In that Third Act of Our Town, which I love and fear, the dead Emily reviews the events of her 12th birthday from the Grover's Corner cemetery, then embarking on her "Oh, earth, you are too wonderful for anybody to realize you" monologue. In the Barrow Street production, this was accompanied by the pulling back of a curtain to reveal the only period-specific set in what had heretofore been a bare-bones play: A kitchen, complete with a pot-belly stove on which bacon was frying, the smell of it permeating the room. In the final balance, there is at least this to live for—a Smell of Bacon or, if you prefer Kiarostami to Thornton Wilder, A Taste of Cherry.
It isn't always enough. Some weeks after our Symphony Space Secret of NIMH screening I was dining with the same girl I'd, who by that time had become my girlfriend, and made a flip remark about suicide being largely the province of confused teenagers. She replied, rather quietly, that her own mother had been a suicide. I don't believe I will ever forget the disgust that I felt with myself then, and how much I immediately wished that I had been more mindful, not such an incurable blowhard. And in some way, Elizabeth Hartman is inextricably connected to this shame.
Today Hartman looks out on the world from beneath two maple trees in the Forest Lawn Memorial Park in Youngstown, her own Grover's Corners, where she had once arrived the conquering hero for the 1966 local premiere of A Patch of Blue at the Paramount Theatre, under February rain. On screen, her performances retain that subtle vibration that makes you think she may actually shatter at any minute, and this gives them a fearful, palpitating immediacy. And while it is very possible that nothing anyone could have done could have saved Biff Hartman, this loss still registers as a reproach. For along with her frailty she gave glimpses of a radiant hope, a vast capacity for happiness that we would only see frustrated, and this only upbraids a world that is so cruel to the gentle.
---
If you've enjoyed this piece, please consider becoming a paid subscriber to Employee Picks. Technically I already got paid for this one, but it'd be nice anyways.